Carolyn Lord Fine Art
"Suburban Beehives" is a view of our backyard flower garden with my husband's beehives and will be featured in an upcoming article in the February 2015 issue of "Watercolor Artist Magazine". This painting is currently on display at the Knowlton Gallery, Lodi, CA.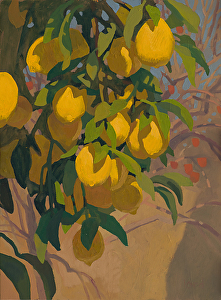 "Lemons in Dun Garden" is currently on display in a group show of the California Art Club at the Santa Paula Museum. Fittingly, the museum building is the former "limonaria", the offices of a lemon grower. This show runs until November 2nd. http://www.californiaartclub.org/quintessential-california/
July's much anticipated Crested Butte Plein Air Invitation in Colorado was exceptional! You can view the oil and watercolor paintings I did in Crested Butte on-line: http://www.crestedbuttepleinairinvitational.com/artist/carolyn-lord/.
My 2-part interview with Antrese Wood is now on-line. www.savvypainter.com . It's a comprehensive overview of my art career with topics that range from Sir Kenneth Clark's book "The Nude" to growing up in Southern California, swimming in a sea of Millard's Sheets' applied arts.
In 2015 I will be offering classes at the Firehouse Art Center in Pleasanton. Watercolor workshops will be in Scottsdale, AZ; San Luis Obispo, and Carmel. Click on "workshops" for more information.
Carolyn
P.S. My paintings are available to be viewed and purchased at galleries in California and Utah. The size of the art ranges from 6" x 8" oils, to 22" x 30" paintings. Prices range from $250. to $5,000.
P.P.S. If you'd like to receive occasional updates on my art and career, click on "E-mail newsletter" to add your e-mail address to my subscriber list.